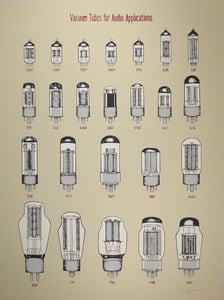 $

50.00
Do you have a stash of NOS 12ax7 tubes hidden away? Do you see a GEC KT66 as a thing of beauty? Well, if you are anything like me you just answered yes to both of these questions. This is my tribute to the wonderful world of tube driven audio. Each tube included in this print is draw and printed at actual size, 100% to scale, and completely accurate to each individual tube model. Your music room or jam space isn't complete until you have this!
18" x 24" screen printed 4 color art print
hand printed limited edition of 60 prints
Printed on French Speckletone paper
FREE vacuum tube stickers with every print order! Currently I am including an EL34, 12ax7, and/or 12ay7 sticker.
FOR SHIPPING OUTSIDE OF THE USA PLEASE CONTACT ME AT info@pdoogan.com FOR A SHIPPING QUOTE BEFORE ORDERING